Our Steaks - A US Premium Product
Our beef comes fom Creekstone Farms in Kansas and is among the highest quality steaks available on the international market.
The cattle that graze on the endless pastures of the states of Nebraska, Kansas, Arkansas, Missouri and South Dakota are handpicked. They feed freely on their huge American pastures on healthy, plant-based forage. The certification by the USDA and the EU Commission guarantee species-appropriate and humane rearing and the guaranteed exclusion of growth hormones and antibiotics.
In the months before it is ready for slaughter, the classic additional feeding of yellow corn takes place for at least 140 days, which gives the premium meat from Creekstone Farms its fine marbling and a truly incomparable taste.
It is grilled to perfection on our lava stone grill by our experienced chefs and paired with the side dish of your choice.
Truely a culinary highlight!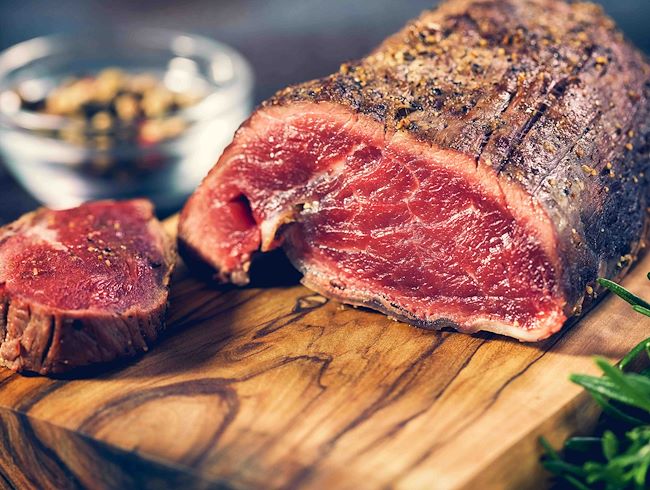 Special Offers at Steakhouse Sindelfingen
Let yourself be trained as a "grill master" or enjoy culinary highlights from our smoker!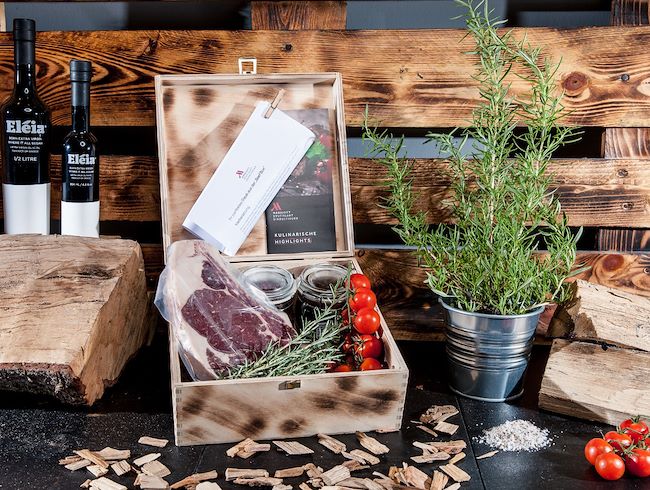 Beef Box
Our BBQ beef box offers you the perfect opportunity to enjoy our delicious steaks from the Steakhouse Restaurant at home. Also available as a gift for your loved ones.
Whether Rib-Eye, Filet Mignon or New York Strip: our premium steaks are directly from the USDA-certified Creekstone Farm in the US state of Kansas.
Together with the steak specialty of your choice, the BBQ beef box contains our signature sea salt mix, our BBQ sauce and the homemade balsamic onion chutney.
You are welcome to add other ingredients to your BBQ beef box. Our kitchen team will be happy to help you with your own personal composition.